Listing: The Thompson Hotel – 55 Stewart
|
View Favorites
The Thompson Hotel & Residences! Airy, Bright And Spacious — This 1468 Sq Ft, 2 Bed And 2.5 Bath Loft Is Exquisitely Finished Without Any Wasted Space And Faces Onto Victoria Memorial Park. Upgrades Include: Hardwood Brushed UV Oil Floors, Extended Island, Original Bathtub Replaced With A Glass Shower Stall In 2nd Bed Ensuite, Entrance Wall To 2nd Bedroom Extended To Maximize Light, Hunter Douglas Solar Blinds And Much More.
Welcome to SelectCondos.ca!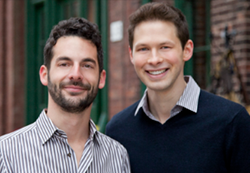 Toronto has just over 300 condos to serve the more than 2.5 million residents in its core -- but not all are equal... How do you know what to buy and what to avoid? SelectCondos is the only Toronto condo based website that weeds out the bad and mediocre condos. Here, condos must meet a strict criteria of livability and strong investment potential to be listed. How have we done this? Scroll down to see.
For more information, contact:
Paul Stavro-Beauchamp | Robert Van Rhijn
Slate Realty Inc.
51 Wolseley Street (Queen & Bathurst)
office: 416.720.8080
fax: 416.981.7608
cell: 416.818.0393 (Paul)
cell: 416.912.6445 (Robert)
paul@slaterealestate.ca
robert@slaterealestate.ca
Articles
Criteria:
Our goal is simple: we want our clients to avoid condos that could pose problems down the road or become poor investments. That's why we've included only the most reputable Toronto condos and loft developments on this website. How are they qualified? Here are some of the criteria used:
· Safe & secure location
· High ratio of owners to renters
· Easily accessible -- well connected
· Award-winning developers
· Area that appeals to broad demographics
· Low "days on market" for sold properties
· Reasonable maintenance fees
Want to learn more about how we qualify condos? Click
here
, or feel free to read some of our articles. If you're looking for any assistance,
contact us
.